Day Against DRM: NO TO DRM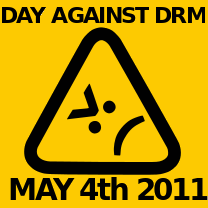 May 4th is Day Against DRM. 2011 has been a bad year for DRM. Sony is using legal actions to harass and intimidate individuals who are modifying their own PS3 systems. And libraries are being replaced by companies like Amazon and Apple seeking to control access to books and monitor who reads what where. We need to send a clear message: No DRM!

So, clear your schedule for a worldwide day of action against DRM. On Wednesday, May 4th, we will be taking action to raise the stakes and increase awareness about the threats of Digital Restrictions Management -- in a very significant way!

Please set some time aside in your day on Wednesday to join us for this once-a-year opportunity! We hope you'll work with us against DRM year-round, but coordinating online and physical events on one day amplifies all of our voices.
Read the blog post for some ways you can get involved. 
Check out our 2011 Day Against DRM banners for your website or blog.
The Internet and Political Change in the Middle East at MIT

On Wed, May 4, 8:30 a.m. - 10:00 a.m. MIT Museum Director John Durant and international guests discussed for t the role – and control – of the Internet during periods of social and political change. This special breakfast-time Soap Box featured informal café-style conversation with experts in Cambridge and (by live link) in Cairo Egypt, with whom we discussed the (ab)uses of electronic social networks during the recent "January 25 Revolution". Talk was by Ethan Zuckerman, Senior Researcher, Berkman Center, Harvard University &  Dr Marlyn Tadros, Executive Director, Virtual Activism , as well as speakers from Cairo, including Mahmoud Salem, Blogger [sandmonkey.org].

 

Event was co-sponsored by the Technology and Culture Forumwith additional support from the National Science Foundation.

Event is archived and may be viewed here: WEBCAST

Last Updated (Friday, 06 May 2011 21:01)

WSIS Forum 2011 Open Consultation on the Format and the Thematic Focus

Deadline for comments January 15th.

The next WSIS Forum will take place from 16 to 20 May 2011, at ITU headquarters, in Geneva, Switzerland. 

In line with participatory and inclusive spirit of the WSIS Forum, another open consultation on the format and the thematic focus of the Forum has just started on 15 October. What would be the topics that should be addressed or discussed at the Forum? Is there room for improvement to increase the efficiency and the effectiveness of the event?

Open discussion will be procedeed at the WSIS community in parallel with the submission of written contributions using online form  until 15 January.

 

The Role of Women in Peacebuilding, Reconciliation and Accountability in Iraq

No Peace Without Justice in partnership with The Foundation for the Future, and in collaboration with the International Alliance for Justice,Westminster Foundation for Democracy, and with support from the Italian Government and the cooperation of the Kurdistan Regional Government, the Iraqi Council of Representatives and the Kurdistan Parliament in Iraq, are organizing an International Conference on " Enhancing the Role of Women in Reconciliation, Accountability and Peacebuilding in Iraq through Socio- Political Empowerment ", which will be held in Erbil, Kurdistan-Iraq on 27-28 January 2011.

Last Updated (Saturday, 22 January 2011 15:43)

International Convention for the Protection of All Persons From Enforced Disappearance entering into force

The International Convention for the Protection of All Persons From Enforced Disappearance is entering into force December 2010. So far only 20 States have ratified it including Iraq.The Convention asserts the right of any person not to be subjected to enforced disappearance, the right of victims to justice and to reparation, and  the right of any victim to know the truth about the circumstances of an enforced disappearance and the fate of the disappeared person, and the right to freedom to seek, receive and impart information to this end.

Read the Convention here.

Last Updated (Monday, 29 November 2010 19:23)